COMPANY INFORMATION

Name of company
Iriya Plating Co.Ltd.
Brand name
IRIDEN since 1915
Location
1-9-3 Ryusen, Taito-ku, Tokyo  ZIP:110-0012
TEL
+81-3-3875-6146
FAX
+81-3-3875-6149
Email
Established
1915
Incorporated
1953
Shareholders capital
10million yen
CEO
Kenichiro Manabe
Number of employees
15
Business
General metal surface treatment and various barrel plating, bake coating and other related business and manufacturing and sales.
Plating types
Dahl, Dahl Black (DB), ATS, Nickel, Black nickel, various bronze plating, various Black finishes.
Product types
Plated products such as accessories, bags, belts, school bags, dolls, stationery, sporting goods, official demand goods, and pressed goods such as keyrings, screws, battery parts.
Main banking institution

Mizuho Bank Inarimachi branch,
Tokyo Higashi Shinyo Kinko Iriya branch

Office hours
9:00 to 17:00
Office closed
Saturdays, Sundays and public holidays
History

Our company was first established as a hardware business at the beginning of the Meiji era. Throughout that period, the company also dealt in woven straw products, finally shifting its focus to electroplating.
| | |
| --- | --- |
| Beginning of the Meiji era | The hardware business opened its first store in KUGIKO (Shitagaya-ku Sakamotocho, Tokyo-fu). |
| Year 1911 | Woven straw products were sold from a store in Shimamura Tamaya (with headquarters in Kasukabe-shi, Minami Saitama-gun), with operations expanded to a branch factory in Iriya (167 Iriya-machi, Shitaya-ku, Tokyo-fu). |
| May/1915 | The Shimamura Tamaya factory was later closed, and the KUGIKO-SHOTEN outlet operations were left to the head clerk. That year, an electroplating facility was constructed at the site of the old branch factory. |
| September/1923 | Operations were heavily impacted during the Great Kanto Earthquake, but restoration was carried out the same year. |
| October/1927 | Our company imported Japan's first rotary electroplating machine (No. 9357 from the KGC Z-series, for which design documents still exist) from Langbein Inc. We were also successful in inviting an engineer by the name of Köni, with whose assistance we introduced rotary nickel plating and brass plating. |
| May/1929 | With the opening of the Nikko Kaido, we responded to land readjustment by splitting our facilities and relocating to our present location. |
| March/1933 | Kuma Manabe, the company founder, was succeeded by Tetsuo Manabe. |
| September/1942 | Upon Tetsuo Manabe's retirement, Shoichi Manabe took over as company president. |
| March/1945 | During the Great Tokyo Air Raid, our facilities were reduced to ash. |
| March/1946 | We rebuilt. |
| February/1953 | The company was incorporated. |
| May/1967 | A new facility was constructed, with a heavy steel skeleton and two floors. |
| November/1971 | Pollution reduction devices were introduced, including a wastewater processing facility. |
| April/1981 | Company management was passed from Shoichi Manabe to Kentaro Manabe. |
| February/1994 | The "Dahl" trademark was registered. |
| May/1995 | Trademarks "DB" and "Dahl Black" were registered. |
| April/2009 | A four-story office and working space were constructed. |
| January/2010 | The company was Eco Action 21 certified. |
| April/2010 | Kenichiro Manabe succeeded Kentaro Manabe, becoming our fifth company president. |
Access
Our Environmental Efforts

We strictly follow environmental laws and regulations and are proactively involved in protecting and recovering the environment through cooperation with the local community. We adopt pollution prevention measures and maintain operations as a safe and environmentally friendly factory. We have the following concrete policies in place;
1) We will take the following actions to care for the environment.
reduce CO2 emissions
reduce electricity usage
reduce waste generation
reduce chemical material consumption
green purchasing
improve quality of products
2) We will abide by relevant laws and regulations
3) We will adhere to waste water standards and prevent water pollution
4) We will engage in environmental protection activities and issue public reports
The power source and mechanical apparatus which became the  foundation of our business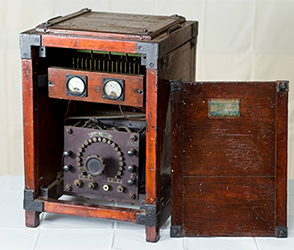 In 1927 we imported Japan's first revolving plating apparatus from Langbeinite company in Germany and acquired plating technology from their engineer Köni. We have since then been developing our technologies for over 100 years.
The picture on the right shows the selenium rectifier (model 1023B, 50~60HZ, input15V~70A, serial number 1115-B24) manufactured by DENGEN-KOGYO LTD.  in April 1946 which we still possess today.
It is considered  only one machines that still exist in working order today.